Excerpts from Greg Adams' Final Interview
With Georgia Gibbs On July 28, 2006
Georgia was as feisty in person as on record, as this interview, conducted shortly before her death, shows. Georgia spoke with Hit Parade by phone from her New York apartment. Ms. Gibbs died of leukemia on December 9, 2006, at age 87.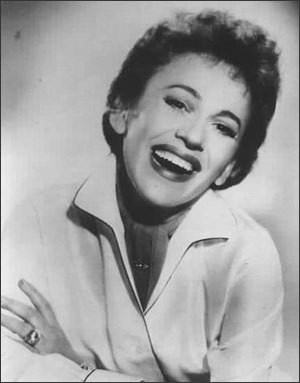 Don't miss Hit Parade Records'

The Complete Original Hits Of Georgia Gibbs

– order now!
GA: You recorded "Ballin' The Jack" four times for four different labels.

Georgia Gibbs: I first heard that song when I was appearing – so that was long before I was recording – with Danny Kaye. I appeared at the Palladium in London with him. I just loved that song so much so that I said, well, when I get a recording contract, I'm going to record that. And that's how I happened to do it. I do that whenever I'm appearing in person. Then it became a part of me because I started to make in-person appearances and I do that song in my act. People used to ask for it.

GA: It first appeared as the flip side of "Feudin' And Fightin'," a cover of the Dorothy Shay hit.

Georgia Gibbs: When you start in the recording business, you have no say of what you're going to record. So the people who bought me apparently liked that song ["Feudin' And Fightin'"], but it certainly wouldn't have been my choice. It's only after you've had your first million-seller that you're able to choose songs that you like.

GA: Did you perform "Ballin' The Jack" on the Garry Moore & Jimmy Durante radio show?

Georgia Gibbs: No. Remember, that was my very first radio show. I think that was before. Actually, it was on that show that I was tabbed "Her Nibs."

GA: What did "nibs" refer to?

Georgia Gibbs: Garry was the erudite one and Jimmy was the complete opposite of that. That was my first radio show, and they get sick of saying "Our Sweetheart of Song" or some inane sort of introduction, so one day out of the blue – he was a pretty bright guy – he said, "Here is Her Nibs, Miss Georgia Gibbs." Jimmy didn't know what the hell he was talking about. I used to get a lot of mail, "What is 'Her Nibs?'" They didn't know that that's an English expression, with the tongue in cheek. It's an English expression, but what Garry did is he turned it into an American expression and said "Her Nibs" because it rhymes with Miss Gibbs. It's amazing – I tried to drop that and I would get mail, "What happened to 'Her Nibs?'" It's just become a part of my full name.

GA: It was around that time that you started recording for Majestic.

Georgia Gibbs: Oh, my god. I think that was my first recording company.

GA: How did that come about?

Georgia Gibbs: I have no idea. You would know more about it than I do. Those years are something you just forget about. You didn't really have contracts – you just did two or four sides, they gave you peanuts to record it and that's the last you ever heard of that record.

GA: You were there during the transition from big bands to solo vocalists. Did you realize at the time that staying solo was the way to go?

Georgia Gibbs: No, not at all. It was just a job. I'd like to tell you a glamorous story, but it's not.

GA: How did the move to Coral come about?

Georgia Gibbs: That was just a $25 date – that's all I got from it.

GA: But you had some big hits there, like "If I Knew You Were Comin' I'd've Baked A Cake."

Georgia Gibbs: But that was a cover job. That was another singer that did it. It couldn't have been a big hit. There a difference between having a big hit and getting a lot of airplay – it got a lot of airplay, that doesn't necessarily mean that you've got a hit record, back then. Now, of course, with a lot of airplay you get paid every time it's played, or something like that.

GA: You covered Etta James' "The Wallflower."

Georgia Gibbs: I did not cover, because she had a song called "The Wallflower." I'm the one who changed it to "Dance With Me Henry." I remember so well, with Hugo and Luigi, we were sitting there going over the numbers and they give me a song called "Wallflower." I said to Hugo, "Look, I'm not going to record this. There's too many young kids that are wallflowers and they're going to associate it with it. So forget about it – I won't do it."

So while I was looking at the thing, I came into the first four bars with "dance with me." I said, "Wait a minute! Wait a minute! Look – I'll do it if we change the title to 'Dance With Me, Henry.'" So, I changed the title. And she had it "walkin' with Henry" or something like that, but she never had "dance with me, Henry." She was very mean and was very uncomplimentary to me, and it was a wide open field. If I tell you how many times my songs have been covered, you'd be very surprised. So I think it was a very ungracious thing for her to have done.

LaVern Baker was always mad that I did "Tweedlee Dee," and if you listen to the record, you'll find that my record is nothing like hers. I have a much more rhythmic approach. She has a kind of legato approach. I think I once heard her record and she didn't take it to a 2/4 beat like I did. This was the start of rock 'n' roll, and when you use this 2/4 beat it has much more attention to the kids because it fits in with the stuff that they're doing. She did it more legato. It didn't have that sock beat.

What's bothering her is that I happened to cover it. I want you to know there were nine covers of "Dance With Me, Henry." A woman called Dorothy Collins covered it. I was so surprised to see all the names that had recorded "Dance With Me, Henry." It just so happened that my version caught on because it had a very pronounced beat. It's a wide-open field – the publishers put it out to anybody who wanted to do it, and I had every right to do that. I wasn't covering – I don't like to cover, as a matter of fact, because you're up for a lot of criticism. But, if you listen to mine, you'll find that my version is entirely different from all the ten others that were done.

GA: You had a good ear for rock 'n' roll. Your version of "Great Balls Of Fire" is terrific.

Georgia Gibbs: You're the only person who ever heard that! My god, I once played it for a friend of mine who fell off his chair. He said, "You're kidding! Is that you?" I said yeah, believe it or not. That's the worst piece of junk you ever heard. This was the backside of some record or something. [At this point, Georgia sings an a cappella rendition of "Great Balls Of Fire."]

GA: Did you enjoy recording that?

Georgia Gibbs: Well, of course, because it was so out of my regular type of singing. I thought I did a good job! I got the feel of the song.

GA: But you preferred the ballads.

Georgia Gibbs: Anytime, because I think I'm a good singer, and I don't say that egotistically, I'm just saying it very objectively. Some of the best things I've done, like "I'll Be Seeing You" from my album – I think I did a very good job on that. As a matter of fact, a big fan of mine is ex-president Clinton. I'll tell you a very sweet little story. I was appearing in New Orleans, and New Orleans at that time was a hotbed for gold record singers. They all appeared at this one particular hotel. One night I came out on stage and, I don't usually play with an audience – I have a set routine because I like to pace the show very well. And whenever you bring anybody up from the audience, it breaks up your pacing because you don't know if the person's going to be good or bad.

So, I don't do it, but this one night I was out on stage and there was a lady coming down the aisle and she just stood there, and she wasn't going to move. And by now the audience could see her, and I had no choice so I just motioned to her to come up on the stage. She knew every record of mine; she knew "Tweedlee Dee." I said, okay, do you know "Tweedlee Dee"? And she said, "yeah, yeah," and she did it and you never saw a happier lady in your life. This is like a dream come true, she's finally got to sing on stage with Georgia Gibbs, so she walked off stage. One day, must have been seven or eight years ago, I was reading a book or something, and she said, "The big thrill of my life was getting up onstage and singing 'Tweedlee Dee,'" and it turned out that it was the mother of President Bill Clinton. How do you like that? When I wrote to him and I told him that story, he sent me the sweetest letter. So I have it framed in my living room. I happen to like to sing ballads better because I think I have a strong ballad voice. I mean, even though I've been successful with "up" stuff, most singers that sing ballads don't know how to sing "up" stuff very well, so it worked against me.

GA: Yet, after your big hits, you continued to record things like "The Hula Hoop Song."

Georgia Gibbs: The hula hoop was a big thing at that time. I had no say. See, if you don't have any say in what you record, you miss out on a lot of things. I didn't like them [novelty songs], particularly. I much preferred the ballads. Until you have a very good manager, which I didn't have, I wasn't able to get to sing the songs I really wanted to sing, and I think I could have had big hits with them.

GA: Personally, I like the variety of music you recorded.

Georgia Gibbs: I did do a lot, that's true. You have rock 'n' roll, you have lovely things like "I'll Be Seeing You," which is the complete antithesis of rock 'n' roll.